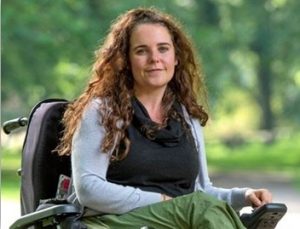 A message from Z-arts ambassador Cherylee Houston
"I think the family fun days are a great way to make the arts accessible to all whilst having an adventure as a family."
We want everyone to have access to Z-arts. Starting in Autumn 2017 we will be hosting Z-access, a monthly disability led family fun day. On the first Sunday of each month we'll take over Z-arts with a range of activities including visual arts, dance, music and drama. Click here for details about our next Z-access day.
We want to make your visit to Z-arts as enjoyable as possible and we try our very best to cater for everyone's needs, however big or small. We have a dedicated audio induction loop in the theatre, free tickets for personal assistants, relaxed performances and a designated quiet space.
Please get in touch with our Box Office staff using the contact details below to book free essential companion tickets and to inform us of any access requirements. If there's anything we can do to assist you during your visit, let us know and we'll do everything we can to make your visit to Z-arts a fantastic one.
Z-arts are committed to making the arts accessible for all and continually strive to improve venue access – watch this short video to find out more about our future plans.
Our Building
The theatre, screening room, gallery, dance space and musics studio are accessible via a lift with wheelchair access to all areas.
Tickets
Anyone who requires a companion, including guide dogs, to accompany them to events at Z-arts can bring an essential companion at no charge.
Essential Companion tickets are available to book online for all bookable events, in person at the Box Office or by telephone on 0161 232 1912.
Latecomers
We're aware that getting little ones to sit down and be silent is a near impossible task at times! So for all of the children's shows in our Big Imaginations programme we allow latecomers and families are free to nip out and come back in if some time outside would be helpful or an emergency loo trip is required! A lot of us here at Z-arts have little ones of our own so we know how tricky a trip to the theatre with a tiny one can be. We aim to make things as easy as possible so everyone, big or small, has a great day!
Quiet Space
Z-arts can get busy and quite noisy when we've got lots of activities happening in the building. If you or a friend or family member require a calmer space on your next visit please let a member of staff know and they'll show you to our dedicated quiet space.
Get in touch
If you have any access requirements or would like to discuss your visit with a member of staff please contact Lowri Jones in one of the following ways:
By telephone: 0161 232 6089
By e-mail: Box Office