We are delighted to announce our new Spring season, packed with fun and adventure!
This Spring, we welcome back families to enjoy the magic of theatre. Join us for STAN, a playful new story which celebrates the joy of communication and the positive force of friendship (and also features some awesome animated dinosaurs!) Or why not go on an adventure and meet the bravest biscuit of all times, the Gingerbread Man? Bring your small sleuth along to help Scribble and Clipboard investigate a mysterious egg in Curious Investigators, or join the search for friendship in The Hug, based on the heart-warming book by Eoin McLaughlin.
Talking about what's coming up, Zoe Pickering (Head of Programming at Z-arts) said: "We have a jam-packed brilliant season of work that I am so excited to share with our families. Kicking us off is a Z-arts commission 'STAN' by the brilliant Art with Heart. And make sure you catch Tiger before he packs his bag and heads home!"
Later in the season, families will also get the chance to meet Josephine, an iconic little girl from Missouri who became a dancer, actor, activist, campaigner, spy, and mother! Or get stuck in with Squidge, which is an interactive experience that will delight and tickle your senses. If you've missed going to music shows over lockdown, we have a special treat for you! Mmm Ahh Whoosh! is a brand-new gig for 0–5-year-olds, which combines music and animation to celebrate the wondrous world of children's language.
We will be offering socially distanced shows to ensure that our families can safely enjoy their visit to Z-arts. Our Z-access Family Fun Day is also returning in March, a day of joy-filled creativity in a safe and welcoming environment for families with disabilities and additional requirements.
Alongside our thrilling theatre programme, our Bright Sparks classes are returning too! From drama, yoga, art, dance, and music, there are many ways for your little one to get creative and fire up their imagination this Spring! Not to mention a whole host of special events for the family, including Chinese New Year, Mother Language Day, International Women's Day, Z-Earth Day & International Dance Day!
Don't forget, there's still a chance to visit the Tiger for tea as well! Explore the works of popular children's author, Judith Kerr, in an incredible immersive exhibition which encourages play and exploration. The Tiger Who Came To Tea is only with us until February 2022, so book now!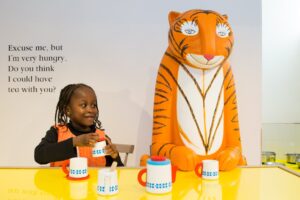 But don't despair! If you can't visit us before February, there are some magical changes around the corner… we are very excited to announce our immersive exhibition will undergo a transformation in April! Families will be able to step into a fairy tale town and into the woods to discover a world of giants, palaces, gingerbread houses and treasure caves. Watch this space!
Book a show or find out more about our Spring programme here. Or explore our Bright Sparks programme here. We hope to see you at Z-arts soon!