The Library of Enchantment
A family-friendly escape room.
Ever wanted to step inside a story? The Library of Enchantment is a fun-filled thrilling family-friendly escape room, full of seafaring adventures, time travelling tricks and a pesky old bookworm who's always up to meddlesome mischief!
Join us for an enchanting experience that requires your puzzling skills, logic, persistence and, most of all, teamwork.
Fun immersive experience
60-minute time limit
Clues, riddles and puzzles
Fantastic group activity
Work as a team
Groups of up to 8 (minimum 3 people)
On your adventure you'll be supported by our specially trained host, who'll be able to give you some hints & tips along the way but only if you need them! You'll have one hour to escape by solving the various riddles, puzzles and challenges The Library of Enchantment has to offer. But be quick or you may just get trapped amongst the pages forever!
Can you help capture Billi the bookworm and put the chaos right before the Library Inspector arrives within the hour?
Ideal for birthdays, special occasions, or just for fun!
Designed especially for children aged 8+
No grown-ups required for children aged 8+
Escape room enthusiasts and grown-ups welcome on their own too!
Children aged 6+ can take part if part of a family group
Access: If you have any access requirements, please ensure you contact our Box Office to learn how the escape room can be adapted to suit your needs. You can contact our friendly team on 0161 226 1912 / boxoffice@z-arts.org
Z-escape is located in a welcoming family-friendly arts and theatre hub, where there are plenty of activities to get stuck into, including our very own Z-arts Children's Library, Fairy Tales exhibition, and theatre programme.
Why not grab a coffee and cake in our relaxing café after you've escaped?
Cancellation policy
Please note, should you need to cancel your booking for The Library of Enchantment, our policy is as follows:
We offer one free transfer for the booking to a different date with 48 hours' notice.
With less than 48 hours' notice, there will be a £25 administrations fee to move the booking to an alternative date.
Weekday bookings are available by request (Tues-Thur) from 10am – 4pm.
Great for school & education groups, team building and public bookings!
Please email or phone Box Office to find out more boxoffice@z-arts.org / 0161 226 1912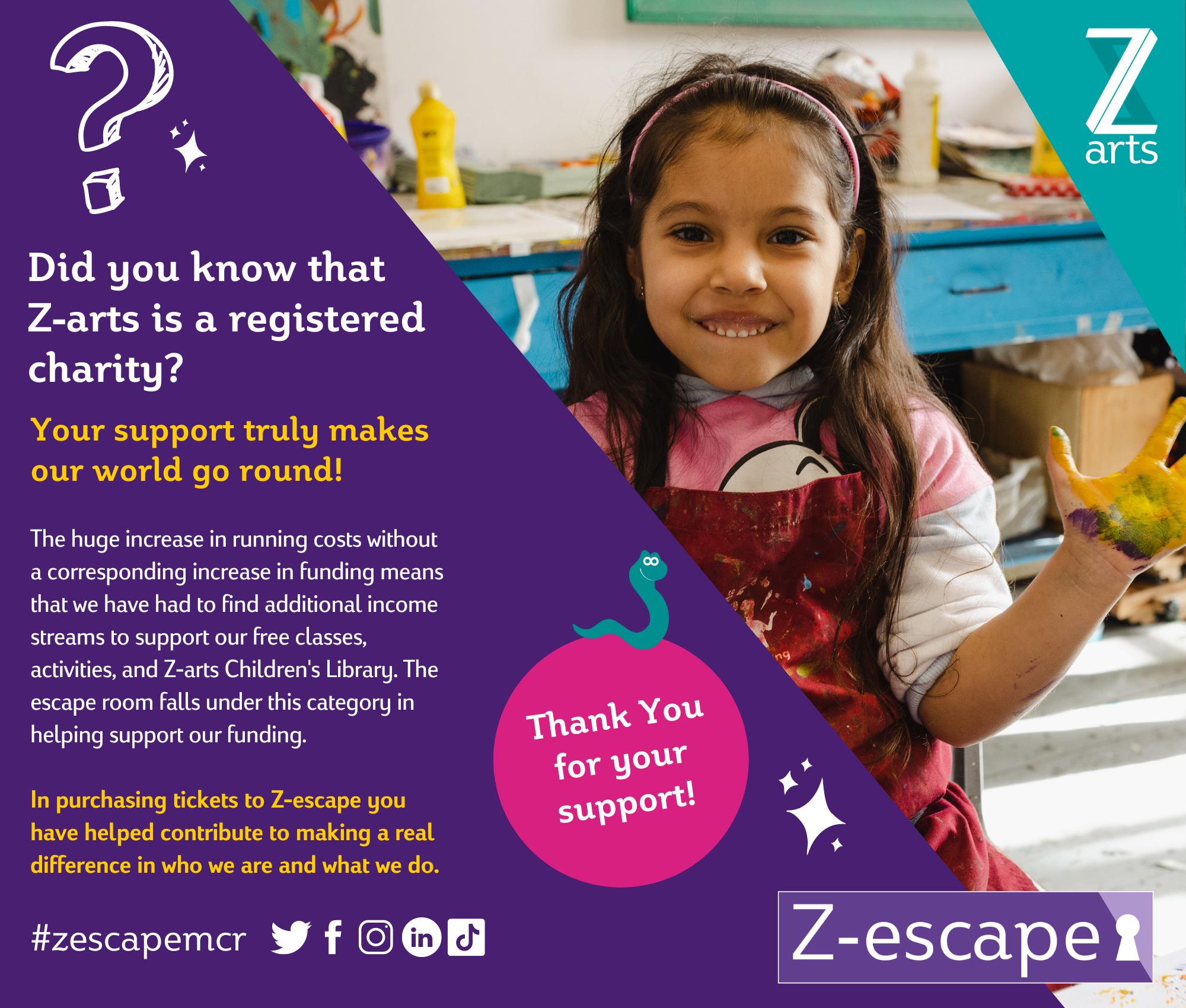 Book tickets now - choose a time below
Show accessible performances only
Load more times +
Times displayed in grey may be sold out or not currently available. Alternatively workshops may be locked for Bright Sparks Members and require a log in.