Oh-oh! Due to unforeseen circumstances, we're not able to serve hot food in Z-café at the moment.
But don't worry, if you still fancy a yummy treat, Z-café is the perfect place to grab a hot drink and indulge in our fabulous cakes while the little ones play in Kids Corner.
While we work to fix this, we'll be serving our picnic boxes, hot drinks, cold drinks, and snacks. Our picnic boxes contain a sandwich, drink, and fruit plus 2 snack items.
(P.s you don't have to be a child to order one!)
See you soon!
Whether you're visiting to see a show, attending a class or are just feeling peckish, Z-Café is the perfect place to grab a bite to eat and something to drink in the beautiful surroundings of our 109-year-old building.
Our café is accessible and is located on the ground floor, just along from reception. We have interval ice-cream if you're coming to enjoy a show and fabulous locally-sourced cakes which are a treat with our fresh, fair trade coffee or a good old brew.
We serve food which is freshly made on premises every day with frequently changing specials . Lunch is 12-2pm with lunchboxes available all day. You can find our opening hours below.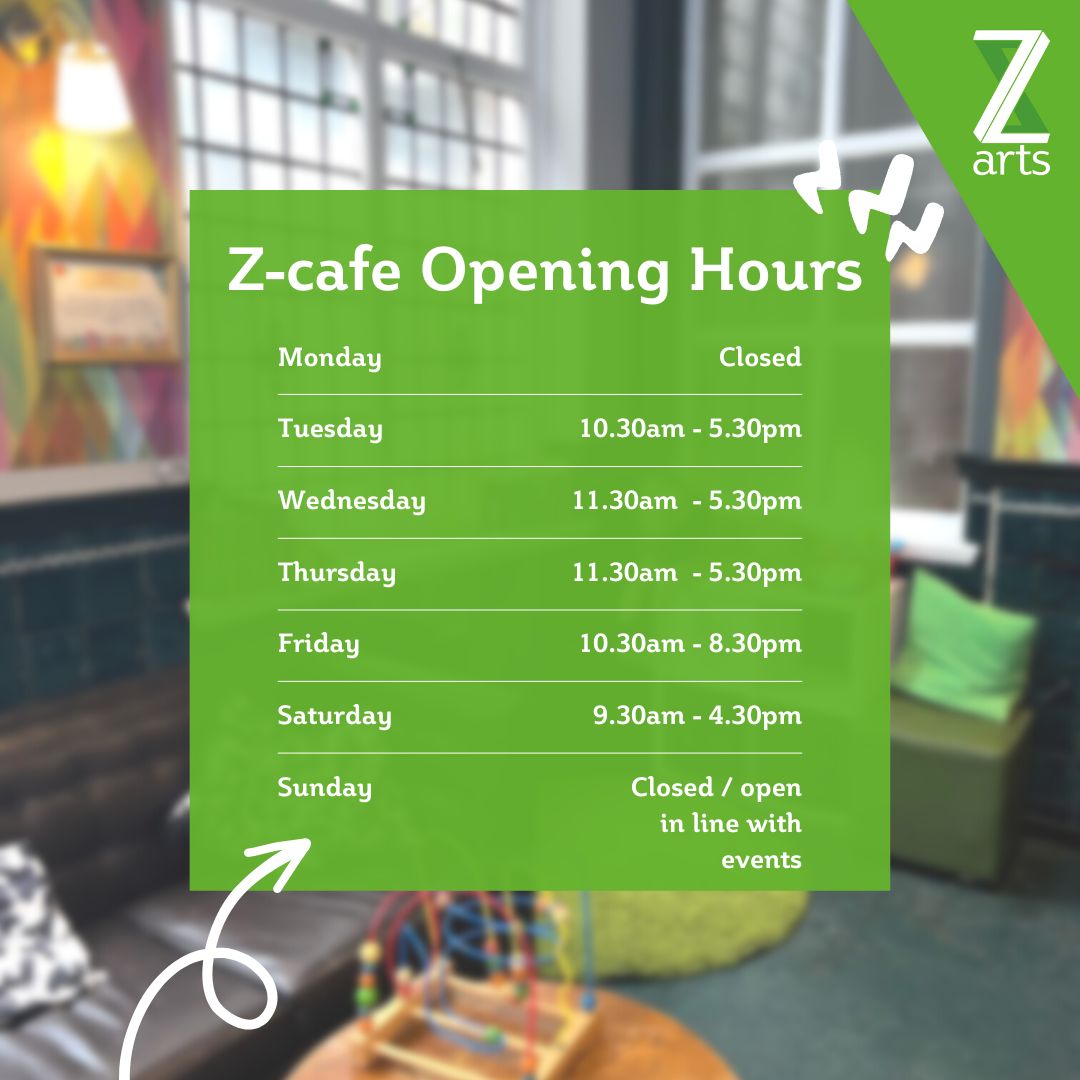 We are family-friendly
You are welcome to bring your own baby food, and we are happy to heat this for you. We have plenty of high chairs available, potties, baby change facilities, loo seats and steps, coloring-in and staff who aren't afraid of a threenager! Anything we can do to help, just ask. Honestly, we've seen it all before – your child isn't the first to wipe a bogey or spit out something they no longer like having in their mouth.
Our picnic boxes are super good value for money and are always available should the kids get hangry outside of mealtimes. The picnic box contains a sandwich, drink, and fruit plus 2 snack items. (ps you don't have to be a child to order one!)
Z-café bar
Z-Café transforms into a cafe bar for grown-up events, with superb wines and bubbles by the bottle or glass, continental beers and British ales, and an extensive spirits selection so you can pop in for a drink after work. Cheers!
Free wifi! 
We've now got FREE wifi in our building! Grab a brew and use our space to work in our cosy cafe. Or use it for the perfect chance to tag us in your social media photos! 😉
Catering services
Buffets/parties outside of our food-serving times can be booked by prior arrangement.
To find out more about in-house catering for room bookings and functions, visit our Facilities and Catering page.
Photos by Ray Jefferson