Aliens, Zombies and Monsters HUNT!
Oh – no! Z-arts has been invaded by life-sized aliens, zombies and monsters! These crazy characters have taken over one of our spaces and it's monster mayhem – don't worry, they're friendly!
Join us for Aliens, Zombies & Monsters! An interactive, immersive exploration into the mind of popular children's author and illustrator Aaron Blecha. As part of the Aliens, Zombies and Monsters Hunt, Z-arts will be filled with life-sized aliens, zombies and monsters that are ready to mingle with visitors of all ages. Beam aboard an alien spaceship, take a photo amongst the monster mayhem or be part of a zombie family.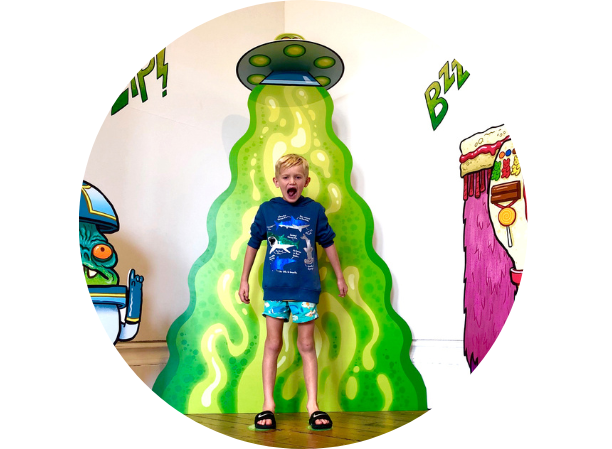 Aaron Blecha is an artist who designs funny characters and illustrates humorous children's books. He has illustrated dozens of books and graphic novels including the Dinomighty graphic novel series (HarperCollins), Zombiekins (Penguin) and the Shark School series (Simon & Schuster). He has authored /illustrated the picture book, Goodnight, Grizzle Grump! (HarperCollins) and the sequel, Good Morning Grizzle Grump! Aaron has also worked as a character designer in TV development (Disney, Curious Pictures), and as an animator / director on cartoons and games for Cartoon Network. He was born and raised in Wisconsin, USA and now lives with his family in Hove, UK. 
Blecha travels around to galleries, museums and schools heading up drawing workshops for kids of all ages. The workshops revolve around building characters up with simple shapes and then telling stories through their own character's design as well as important ideas like "it's ok to make mistakes" and "every person has their own way of looking at the world".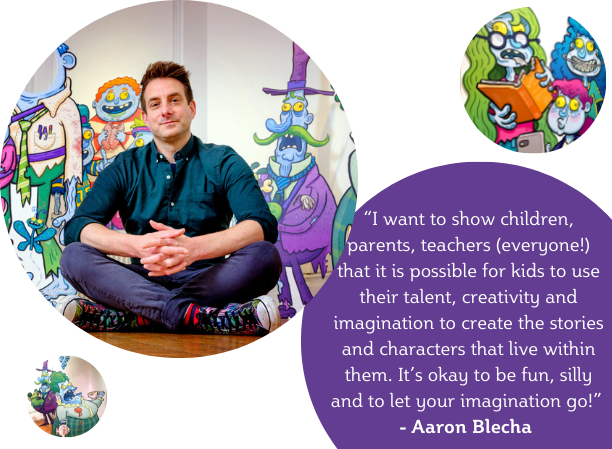 You can even meet their human friend Aaron Bletcher to find out how they came to life in a family-friendly or child-focused workshop!
We have created a Visual Guide for Aliens, Zombies & Monsters. This guide is designed to help children with autism, sensory needs or anyone that may benefit from an introduction to Z-arts and their families prepare for their visit. Download the Aliens, Zombies and Monsters Visual Guide Here!
Book tickets now - choose a time below
Show accessible performances only
Times displayed in grey may be sold out or not currently available. Alternatively workshops may be locked for Bright Sparks Members and require a log in.