Halloween Monster Making Workshop
Join illustrator, Aaron Blecha (find out more about him below) in this fun, interactive Halloween-themed workshop – getting top tips to develop your own characters, story, and style! Not only will you leave brimming with ideas, you'll also receive your very own spooky sketch, drawn by Aaron himself! 
This workshop is for everyone to take part in – kids all the way up to 100! If you would prefer to drop off your child for them to take part in the workshop with other children – take a peek at our children's versions here, suitable for 8+!  
Signed books by the author will be available to purchase at the end of this event.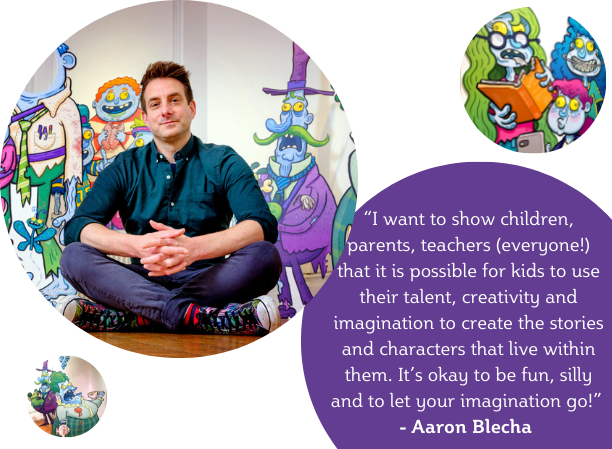 Aaron Blecha is an artist who designs funny characters and illustrates humorous children's books. He has illustrated dozens of books and graphic novels including the Dinomighty graphic novel series (HarperCollins), Zombiekins (Penguin) and the Shark School series (Simon & Schuster). He has authored /illustrated the picture book, Goodnight, Grizzle Grump! (HarperCollins) and the sequel, Good Morning Grizzle Grump! Aaron has also worked as a character designer in TV development (Disney, Curious Pictures), and as an animator / director on cartoons and games for Cartoon Network. He was born and raised in Wisconsin, USA and now lives with his family in Hove, UK. 
Book tickets now - choose a time below
Show accessible performances only
Times displayed in grey may be sold out or not currently available. Alternatively workshops may be locked for Bright Sparks Members and require a log in.