Did you know that from the 1 – 7 June is Volunteers Week?
Volunteer's Week is celebrated annually during the first week of June and serves as a platform to recognise and appreciate the invaluable contributions of volunteers across all sectors.
As we come together to celebrate the importance of volunteers, we thought we should mention that Z-arts are on the lookout for a team of volunteers to help in our Children's Library.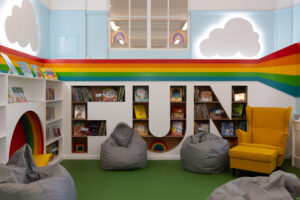 The Z-arts Children's Library is a community library and part of Manchester Libraries network. It is a place where children and families can read, imagine, connect, create and have fun. Our library also has a packed regular library programme, as well as many other events which you can check out here.
We are looking for Children's Library Volunteers who can commit a small amount of time each week, enjoy working with children and are enthusiastic about reading, books, stories and creativity.
Volunteers will assist Z-arts staff with our programme of activities for babies and children within the library, welcome children and parents as they arrive into the library, help keep the library looking inspiring and much more!
To find out even more about the role you can download our brand new job pack here!
We're open to anyone applying: parents, carers, grandparents and students.
How to apply:
First register your interest by emailing tabitha@z-arts.org
We will then send you a short simple application form to fill in.
Happy applying! And Happy #VolunteersWeek!