"New music, new beginnings & the new normal – meet the 6 young artists navigating the music industry in the post COVID world"
Backstory 
Lockdown and the restrictions on life due to COVID-19 have put a strain on young people, the music industry and arts & culture in general. Through the Lockdown Label, Z-arts and The Levi's® Music Project have been supporting 6 young artists to create, release & promote new music. We sent a call out to our network and selected 6 amazing artists all of whom are at that crucial early stage in their career where support from external sources can be the catalyst for success. We then selected entries from a wide range of musical backgrounds that reflect Manchester's artistic community & heritage
Through regular online meetings, each artist has been working closely with project leader Jack Hartshorn to finish their music, write a release plan and develop links with music industry and press. Artistic freedom is very important to the project and each artist is in control of their own release and are the ultimate decision makers at every stage of the project. We have covered the associated costs of the releases but the artists keep 100% of their ownership and royalties. All the tracks have been produced and recorded solely by the artists themselves. Masters have been created by renowned Manchester DJ & producer Sappo. 
"The lockdown label has been one of the most effective projects we have run during the last few months. You can really feel the need for programmes like this when the participants are so engaged and excited. Now more than ever, when the music industry is so under threat, the need to support young musicians is more important than ever!" Jack Hartshorn – Project Leader
The Lockdown Label Artists
Kahreign
Kahreign is a 22 year-old Manchester-based singer, producer and songwriter. Her style is eclectic, resonating with house, synth-pop and other electric genres. Her debut, self-produced single 'Switch' set the foundations for her distinct sound. Speaking on her name, Kahreign explains  it to be "A translation of the word 'soul' in Ancient Egyptian and 'here' in Hebrew. Her influences include Kelis, TLC, Brenda Fassie and Azealia Banks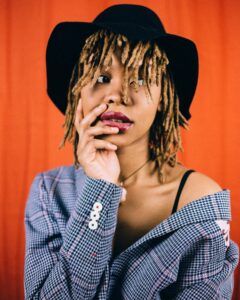 "Has this project helped you cope with lockdown, if so how?
Working alongside Z-Arts and Levi's to create a piece of work I can be proud of has been a saviour to me during this lockdown. The immense support the teams have offered has kept me going during the darkest hours. The project gave me a reason to stay motivated and push on.
How important is music for your wellbeing?
When I interact with music, I become free to explore different emotional realms within me. It's easy to feel suffocated in the day-to-day life, as though you can't actually stop to check -in with yourself. Certain melodies, harmonies, vocals and all the detailed instrumental layers of a song speak to me. Music grounds me when I need that comfort. But music also helps me to travel mentally so I can find new inspiration
Most of the music industry is shut down right now including most music venues – how has this affected you?
It is disheartening seeing the challenges a lot of the venues are being faced with at the moment. In Manchester, the gigs and venues have always been a top-tier experience. There is a lot of rawness, openness and acceptance among the music scene and community. The city thrives from having that reputation. It is hard to see that reality becoming compromised
What is the thing you have missed most since lockdown began 
Since lockdown began, the one thing I have missed most is being able to access the studios. A lot of the work I create is from my living room but the environment is very limited. After a certain point along my song-making process I have to rely on a studio setting to help me bring the production to its best quality. Studios provide a better range of high quality equipment to complete the song.
https://www.instagram.com/kahreign/?hl=en
Annalise
Manchester based singer-songwriter Annalise is an emerging urban pop artist who believes in the power of music to make a difference. Citing Demi Lovato and Ariana Grande as major influences, her milestones include participation in the NextGen and Music Gateway Competition (2018 Winner), Streetstars' Star Search (2018 Winner); and the Open Mic UK competition (2019 Finalist) where she performed at the O2 Arena, London. As ambassador for the Levi's Music Project, the support from her own community has not been forgotten. Her first single "Stronger Now", to be released this September, showcases her strong vocal delivery and quality song writing.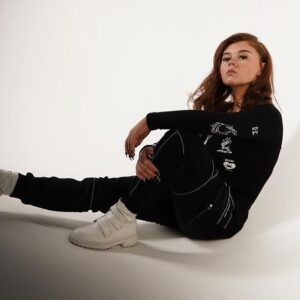 https://www.instagram.com/annaliseofficialuk/?hl=en
Motto Estate
Motto Estate is a collective of unconventional artists ranging in influences and styles. Formed in 2019, Motto estate began making an undeniable mark in Manchester's underground rap scene. From Manchester to London to Liverpool, their diverse members provide raw energy, honest introspective expression and a unique approach to their music & stage presence.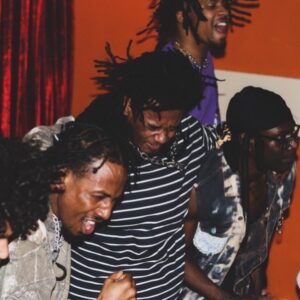 https://www.instagram.com/mottoestate/?hl=en
Bicho Cezar
My name is Bicho Cezar and I'm a guy who makes tunes from Manchester. I was born in St Mary's hospital to a Salvadoran Dad and an English Mum, and as a result I've spent a lot of time in El Salvador, though mainly I've lived in Manny. Either way, I moved around a lot as a kid. I started writing when I was little, but that gradually slowed to a halt until I started playing guitar when I was 11. At first I made a lot of very corny rock and folk tunes, but I gradually developed an interest in flamenco after seeing the live "Entre Dos Aguas" video by Paco de Lucia. So I started learning classical guitar to get to a point where I could play like that. That interest was eventually sabotaged by my attention span and rapping, which became my main interest and has stayed that way ever since. I started to take rapping more seriously once I joined a poetry club called Young Identity, where I met some amazing writers and made great friends. Nowadays I spend my days in the studio bullying beats and pumping calibre into notebooks or sat under a palm tree playing my guitar. So yeah, that's me summarised with regards to music. To hear more about who Cezar is you can listen to me rant over rhythms 24 hours a day 365 days a year. Peace out.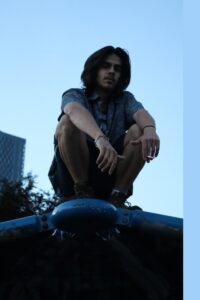 https://www.instagram.com/bicho_cezar/?hl=en
Lavender Rodriguez
Lavender Rodriguez, also known as just 'Lavender', was born in Hackney, London, raised in Hampshire, now residing in Manchester. She prides herself in being a "creative" – using any output to explore and express a plethora of ideas, through composition, performance (through the likes of violin and bass guitar primarily) and arranging.
Whilst primarily composing by day, Lavender enjoys switching up her creativity by night through songwriting and producing. Since enjoying pop, jazz, neo-soul growing up, she wanted to relish in that world but also challenge herself in mixing the worlds of contemporary classical and electronic jazz/pop.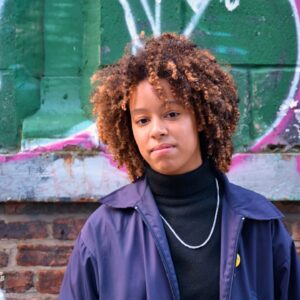 Has this project helped you cope with lockdown, if so how?
The project has given me stuff to focus on and has given me a confidence boost – I didn't think I'd be releasing my own track this year so this really helped my career and confidence.
How important is music for your wellbeing?
Music (as cheesy as it is) is my life. Whether that's writing or performing or orchestral playing, I've always engaged with music in some respect. I enjoy creating too much to let it go.
Most of the music industry is shut down right now including most music venues – how has this affected you?
II was really looking forward to performing some gigs this year – I had a lot of things lined up and I've struggled with finding purpose now that the arts sector has been at risk.
What is the thing you have missed most since lockdown began 
I've missed collaborating and jamming. I miss the exhilaration that comes with meeting new people and creating new music.
https://www.instagram.com/ohitslavender/?hl=en
Hollie Blue
I'm a solo artist and for the past few years I've been working on finding my sound. I play acoustic stuff but also been teaching myself producing to combine elements of different genres such as trip hop, rock and alternative pop. My ambitions as an artist are to be able to release a few albums and be able to play at my favourite venues, and potentially help other people with mental health issues etc as I use music as an creative outlet for these things, and try to turn it into something that makes me feel better.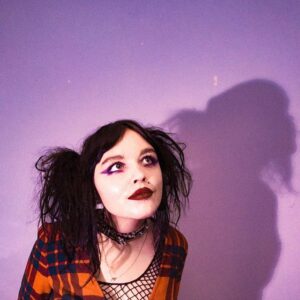 https://www.instagram.com/hollie.blue/?hl=en
About the Levis music project
The Levi's® Music Project supports youth music education by connecting some of the world's biggest artists with local community groups, to providing long term studio resources that will equip and inspire the next generation of musicians. Find out more here
When is it out and where can we find the music
All the music from this project be released between 23rd-29th September 2020. For more information about the project or if you are interested in receiving a press kit please get in touch with Jack at jack@z-arts.org
If you want to find out as soon as the Lockdown Label's artists'  music is released, sign up to our mailing list!