Contender Charlie and China Plate join forces to present Romeo and Juliet – Mad Blood Stirring, a thrilling and unforgettable introduction to the timeless story, here at Z-arts.
On Saturday 2 March Z-arts welcomes Romeo and Juliet – Mad Blood Stirring. From the team that brought you Macbeth – Blood Will Have Blood comes a thrilling retelling of Shakespeare's most famous and tragic love story.
The troubled Friar rushes us through the mutinous streets of Verona, plunging us into a community torn apart by prejudice, conflict and violent crime. Using live music, striking visual effects and gripping storytelling, this show is perfect for everyone who has every groaned at the thought of studying Shakespeare.
Shakespeare's original language is still used by most of the characters, but the audience are guided through the action by the Friar using modern-day English. The audience hurtle though a story of love and loss, of injustice and rebellion, and of fighting for what you believe in. Contender Charlie and China Plate breathe a new life into the tale and engage young audiences.
"It's so important for young people to know that they have agency and they have stories to tell as well," says Zoe Pickering, head of children's programming at Z-arts. "And that's something that this production does really well. We forget that the story of Romeo and Juliet is about young people, and Mad Blood Stirring puts them back at the centre."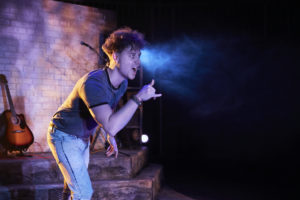 Romeo and Juliet – Mad Blood Stirring is suitable for young people aged 9 – 13 years and their adults. There are two shows, one at 11am and one at 2.30pm, and tickets are £6 – 9 – booking is essential.
Tickets are available here.