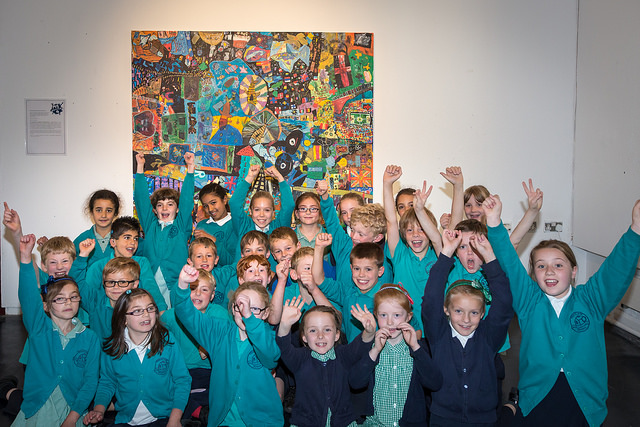 A new anthem for Europe has been composed by 11-year-olds as part of a European schools project in the North West.
Year 6 pupils from Roundthorn Primary Academy have composed a new anthem for Europe with the help of local classical musician Sarah Attar. The piece is the culmination of their part in My Europe – a mass participation arts project incorporating over 300 pupils across Manchester and the North West, facilitated by Z-arts – Manchester's arts centre for young people.
Developed in workshops taking place over several weeks, the pupils explored European languages and music – from the folk accordion of France and the castanets of Spain to the piano music of Bach and Mozart and French flute music by Fauré.
Performing their pieces at Z-arts on Friday 4th July 2014, the pupils used their voices, bodies and own handmade percussion instruments to sing 'Hello' in eight languages from around Europe, perform a rhythmic Spanish challenge, a Hungarian folk fiddle fiesta and a feisty French rap.
The project was topped off with their own composition, European Anthem:
Europe is our great big nation
Countries of all shapes and size
Different people, new locations
Friends and neighbours live allied
Though our language, food and music
Are not the same we all agree
We live side by side together
In our big community
My Europe teamed 10 North West-based emerging European artists with local primary schools in a mass arts project exploring the region's multicultural heritage and what it means to be 'a European'.
Sarah Attar
My Europe Chief, Z-arts CEO Liz O'Neill said: "When we started this project most of the pupils' knowledge of Europe was limited to food and holidays. Now they feel much more connected to a European culture."
Led by Manchester's Z-arts, over 300 youngsters took part in various creative activities from making puppets and plays to creating pots and poetry with visual artists Clare Pollen and Ivan Liotchev; theatre practitioners Sinead Emery and Yusra Warsama; musician Sarah Atter; flamenco dancer Yinka Graves; animator Cristina Pedreira; poet Yussuf M'Rabty; sculptor Pascal Nichols; and, puppeteer Molly Hawkins.
Together they explored notions of multiculturalism and what it means to be 'European' whilst creating work to present at Z-arts. The exhibition is open to the public for one day only – Saturday 5th July.
In partnership with the European Commission in the UK and Instituto Cervantes and with support from The University of Manchester and Manchester Metropolitan University, Z-arts aimed to encourage young people from across the North West to explore feelings and thoughts on Europe.