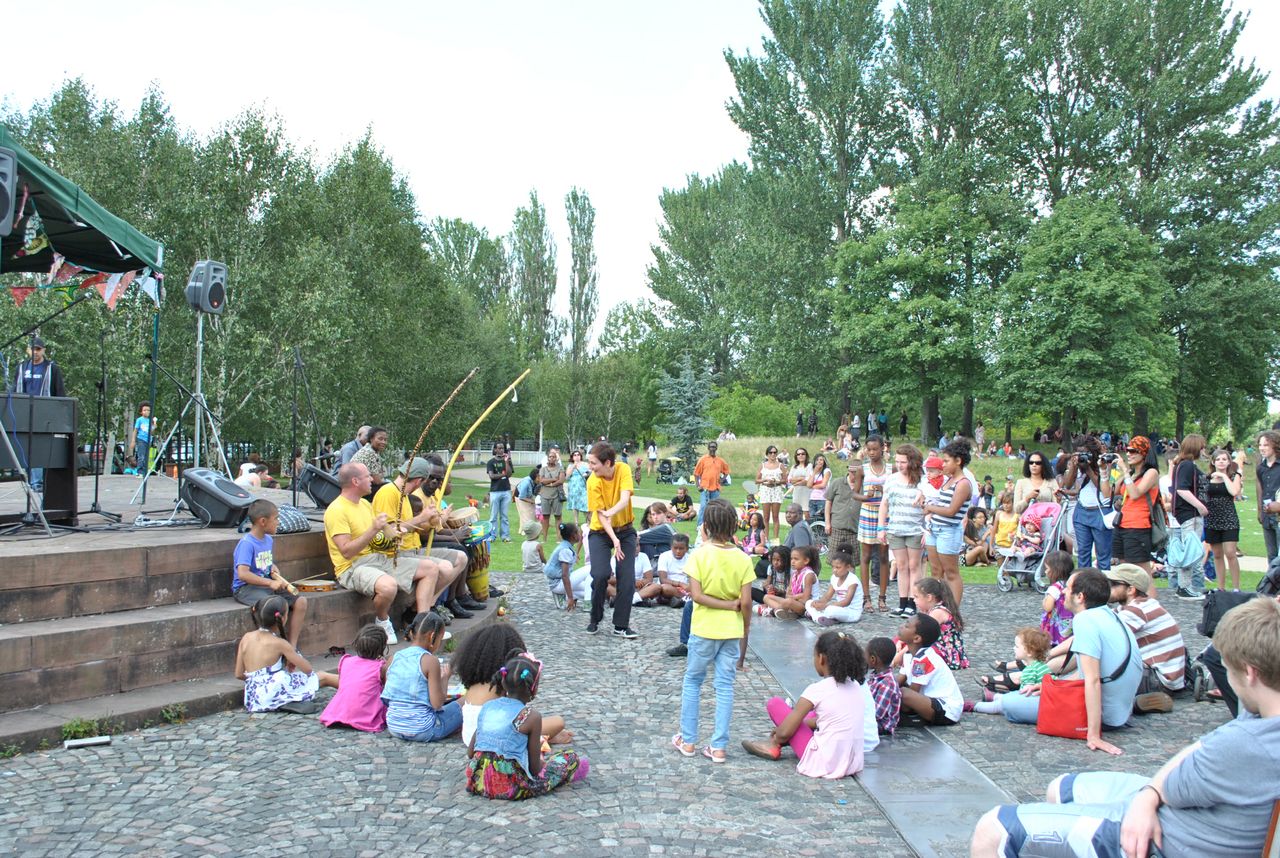 Z-arts, Hulme Community Garden Centre & Venture Arts Present
Hulme Is Where the Art Is 2014
A mini festival celebrating one of Manchester's most vibrant communities
Saturday 19th July 12pm – 6pm
Hulme Park & Old Birley Street
Hulme Is Where the Art is returns for its 5th year on Saturday 19th of July with theatre, creative workshops and music for all the family. This free mini festival celebrates Hulme's vibrant community and gives local residents a chance to get together and enjoy the rich diversity and culture of their neighbourhood. The event is organised by Hulme Community Garden Centre, Venture Arts and Z-arts.
That day kicks off at noon in Hulme Park with The Flying Machine, an interactive family performance from Handmade Theatre where the audience become the crew of a life-sized flying machine. Performed through an exciting mix of drama and song, this show brings to life your imagination and sense of adventure in a fantastic multi-sensory experience suitable for all the family. They'll be activities in Hulme Park throughout the day as well as a musical performance from Z-arts' very own youth music collective Allsorts and family arts and crafts from Mix It Up. 
As ever Old Birley Street will be a hive of activity with food, music and table-top sales. Venture Arts will tag team with Z-arts and host creative family workshops throughout the day. Amongst the bees and flowers of Hulme's beautiful Community Garden Centre will be live music, delicious food from Teatime Collective, pop up Garden Tea Room with cakes from Black Cat Cakery, refreshments from Moss Cider Project, local green organisations and crafts on display throughout the gardens, and plenty of straw bales on which to sit, relax and soak up the atmosphere.
The final band will perform at The Garden Centre at 4.30pm before local Hulme legend DJ Horace closes the day with a DJ set outside Venture Arts and Kim by the Sea. This year's theme is the Grasshopper.
ends/

.
Venture Arts
Venture Arts is unique in the North-West. Since 1985 it has been providing a bright, lively and welcoming environment for people who have learning disabilities to produce quality artwork. Venture Arts focuses on bringing out the best in every individual, nurturing talent and enhancing overall wellbeing and quality of life.
More information: www.venturearts.org
Hulme Community Garden Centre
Now an established part of Hulme, the Community Garden Centre continues to grow and expand, always with the same intrinsic ideals that were there from the beginning. They inspire, educate and heal, and of course offer a huge range of plants for sale throughout the year. Their public gardens are alive with birds and insects who appreciate their strict chemical free practices.
More information: http://www.hulmegardencentre.org.uk/
Z-arts
Z-arts is Manchester's only dedicated venue for children and family theatre and the leading partner in Big Imaginations, a consortium of North West venues and promoters bringing world class family theatre to the region. It's Z-arts mission to inspire young people through all forms of art and help them begin their creative journey.
More information: http://www.z-arts.org/