Facilitate at Z-arts!
Are you aged 16-25 and a lover of arts, theatre, music, dance? Our Assistant Facilitator Programme is back and we'd love to hear from you!
Get paid (£10.90 p/hour) to help run our programme of activities for children aged 5-16
 Starting in September 2023
 Minimum of two hours commitment per week
Thinking of a career in the arts?
Here at Z-arts, we believe that theatre and the arts are for everyone! They are inspiring, immersive and magical, and we want to share the joy of creativity, imagination and storytelling with children and families in Greater Manchester and beyond.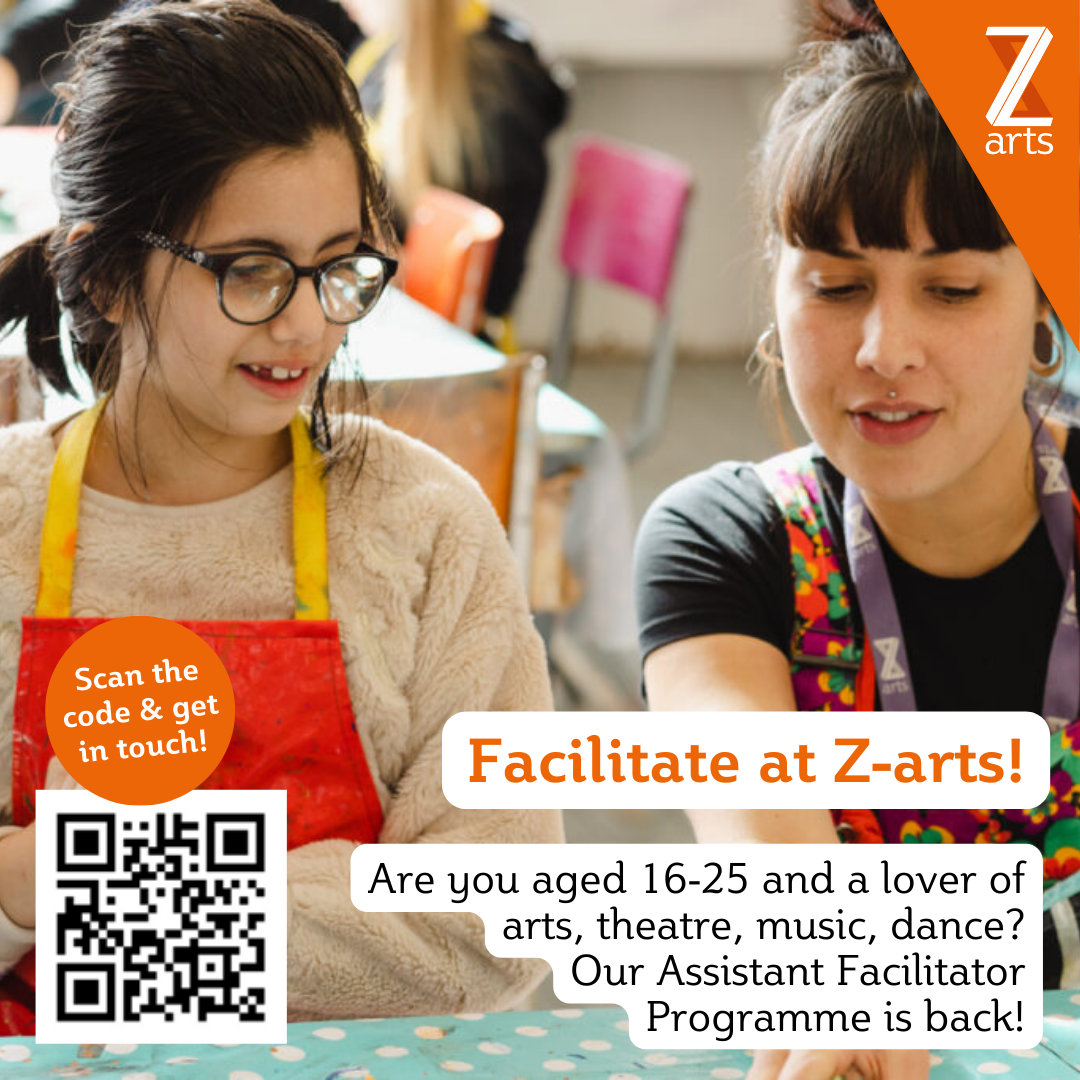 Join our team and become an Assistant Facilitator!
Learn on the job in creative sessions. Come up with fresh ideas for the future!
Are you?
Interested in:
Being paid to train to facilitate in either, dance, drama, arts, music, or wellbeing.
Passionate about working with children? Want to help plan and lead sessions?
Benefits:
Support and mentoring from arts professionals
Meet people who work in arts & culture from across Manchester
Work with children & young people
Gain new skills and confidence
£10.90 p/hour
Dates for your diary:
Zoom info session – June 2023 (Register your interest for date info)
Recruitment Workshop Sessions:
Thursday 6 July | 4.30pm – 6.30pm
Thursday 10 August | 4.30pm – 6.30pm
We are committed to representing people from:
Diverse backgrounds
Students who come from non-traditional higher educational backgrounds
People who live in the local community of Hulme
People from the LGBTQ+ community
People from black and ethnic minority backgrounds
People with access requirements
To register your interest:
Please fill in the Google form here or via scanning the QR code.
If you'd like to find out more, contact: tabitha@z-arts.org / 0161 226 1912