Join the Three Bears in their
little Bed and Breakfast in the forest and celebrate your birthday in the magical world of Fairy Tale Town!
Step into a fairy tale town and through into the woods to discover a world of giants, palaces, gingerbread houses and treasure caves. Trip trap over a bridge (but watch out for the troll!), join in the palace disco with the musicians of Bremen, sit in a giant's footprint, visit the market and help Jack win some magic beans, and much more.     
Fairy Tales Party Package:
Up to 30 children with a minimum of 20 children required.
Party running time is 2 & 1/2 hours starting at 2.30 pm – 1-hour exclusive hire or the Fairy Tales experience plus 1-hour exclusive hire of the Atrium for food, games, and dancing.
Fairy Tales-themed party menu included.
Children's party bag items – Fairy Tales sticker, balloon and colouring pencils and

Fairy Tales activity booklet.

 

 

Fairy Tales party-themed games sheet.
Downloadable party invite, which you can download here!
Party Timings:
14:30: Fairy Tale adventurers arrive
14:45: Exclusive hire of our Fairy Tales Experience where you'll meet our professional storyteller inside the Three Bears B&B.
15:45: Food served in the Atrium space. We will provide Fairy Tale-themed games activity sheet that parents can use to facilitate the games in the space. A music player will be provided. 
16:45 – 17:00 Party bags & goodbye hugs!
Party size:
The Fairy Tales Experience can hold up to 40 people.
The maximum entry is for 30 children.
We ask for 1 adult for every 5 children.
Adults are admitted free but will not be catered for.
The atrium space for the party food and games holds up to 50 people.
 
If you have any queries or questions, please contact Box Office on 0161 226 1912 / boxoffice@z-arts.org  
*Due to our Hygiene certificate we have to provide the food though you are welcome to bring your own cake. We also have a café/bar where parents can purchase snacks and drinks. We can provide additional catering and drinks as required.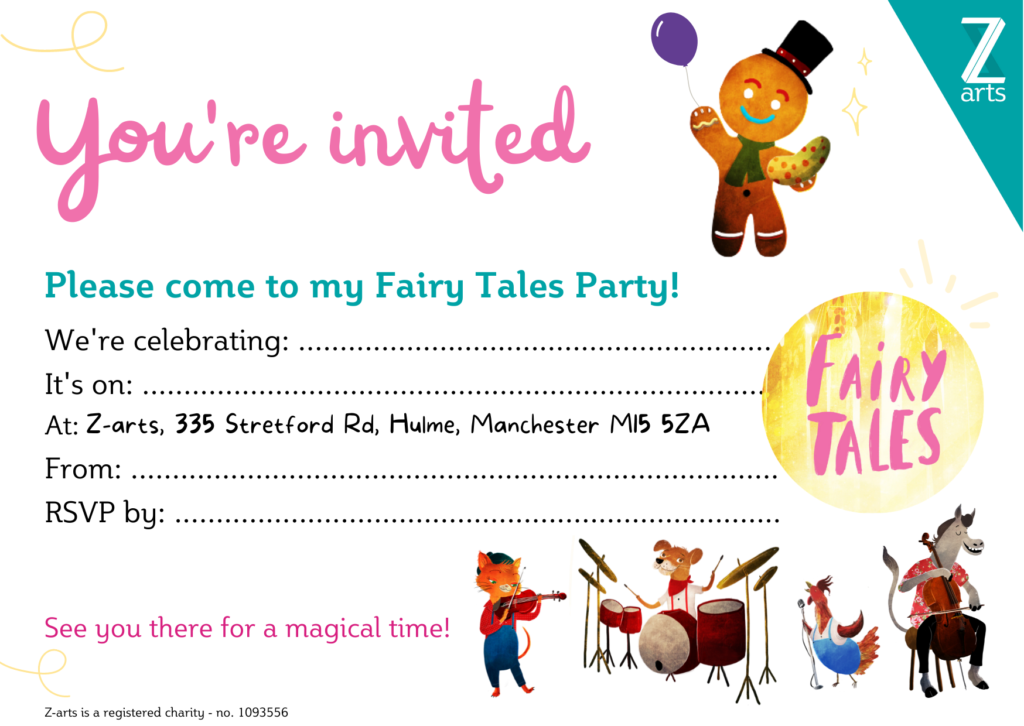 Book tickets now - choose a time below
Show accessible performances only
Times displayed in grey may be sold out or not currently available. Alternatively workshops may be locked for Bright Sparks Members and require a log in.