Drag Queen Story Time is presented by Z-arts and STUN
The sell-out show is back again by popular demand – this time online! Hosted by the fabulous Auntie Ivory, this show is going to be live-streamed from Z-arts as part of our digital festival as she reads a children's story using her outlandish and hilarious storytelling skills! Drag Queen Story Time allows children to imagine the world where people can present as they wish and where dress up is real. The story Aunty Ivory will be reading is 'Hey Presto'.
Audience Feedback from previous shows –
"Thanks so much to Auntie Ivory for our brilliant session yesterday! My three year old daughter loved,  "a queen dressed as a princess", and was so inspired that she got over a lifelong fear of dressing up (we have had to leave places over it before) and donned a costume in the lovely cafe downstairs. Thanks Z-arts and especially Auntie Ivory! We hope you'll be back again soon"
About Auntie Ivory
Auntie Ivory (also known as Blaq Ivory) is a Manchester-based Drag Queen and DJ, currently resident in several venues across Manchester City Centre.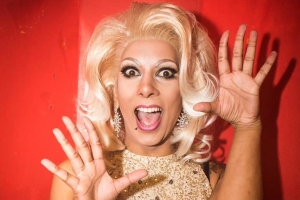 About STUN
STUN (Sustained Theatre Up North) are part of a National Movement dedicated to the growth and prosperity of BAME Creatives across the UK.
Book tickets now - choose a time below
Show accessible performances only
Times displayed in grey may be sold out or not currently available. Alternatively workshops may be locked for Bright Sparks Members and require a log in.