Z-arts offer a popular programme of creative learning activity for Primary School pupils. All sessions and projects are tailored to the needs of individual schools, and can explore any areas of curriculum on request. 
We offer workshops across all art forms including: 
Drama & storytelling 

 

Dance & creative movement

 

Art & design 

 

Music 

 

Yoga 

 
At Z-arts we believe that every child deserves the opportunity to shine!  
We love an enquiry based learning approach, where pupils are encouraged to consider big questions through creative activity. We also offer targeted workshops working with identified students with specific needs – building up social skills, confidence and emotional resilience.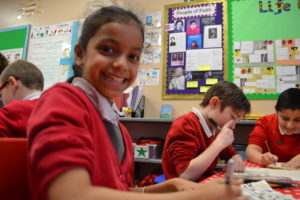 Our Associate Artists are skilled professionals with the ability to inspire and encourage the next generation of artists and creative thinkers. We like to work closely with teachers and artists to create imaginative and innovative approaches to literacy and numeracy, as well as other subject areas such as science, history and geography. 
We present Children's Theatre shows throughout the year at Z-arts through our Big Imaginations programme, which are available to nurseries and schools for group bookings. 
"The project has given our children an opportunity to explore the arts both inside and outside a classroom setting. It has expanded their understanding of how they can express themselves creatively and opened their imaginations to new ways of learning."
Local Primary School Teacher
For more information about Z-arts activity in Primary Schools, explore the KS1 & KS2 Creative Learning tab on the right or contact Gill, our Creative Learning Manager: gill@z-arts.org