Andy Manley & Andy Cannon are the creators of our Christmas show Black Beauty which is running until Saturday 15 December. Although they're not playing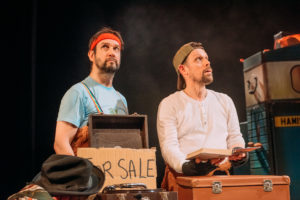 themselves at our Christmas show, they have told us their top playful points about Black Beauty and how the play was created.
Andy & Andy both said that creating the re-telling of Black Beauty into a show was a mix of 'great fun and abject fear' because they wanted to make sure they covered all of the essential elements of the original Black Beauty story line, covering not only the scenes throughout the book but also the emotions. Devising a show is all about the choices you make, especially when creating a play from an already existing book/film.
Andy Cannon said that one of the greatest compliments he could receive would be for people to read the original book after they had seen their re-telling of Black Beauty.
Get your tickets for Black Beauty here.