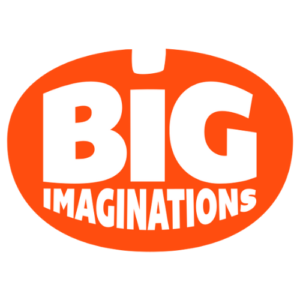 Big Imaginations is a network of 23 arts venues and organisations dedicated to providing high quality, imaginative and affordable theatre to children and their grown-ups.
From grand auditoriums to rural village halls, and everywhere in between, it is our mission to ignite the imaginations of children and their families years through the wonder of theatre.
This is how we work: Z-arts is the lead organisation of Big Imaginations, with CEO Liz O'Neill as Chair of the network and Zoe Pickering as Big Imaginations manager. The network have quarterly meetings with representatives of all the member organisations invited and we have subgroups to discuss and make decisions on programming, commissions, artist development, and other aspects of Big Imaginations.
You can find us across the North West and Yorkshire.
By programming and commissioning work that inspires children, young people and their families, we hope to encourage everyone to explore the world in different ways. We aim to nurture inquisitiveness and play, share amazing experiences, and provide families with the opportunities to enjoy theatre and the arts together.
Interested? Have a look at the network's website to find out about artist development, resources, and where your nearest Big Imaginations venue is.