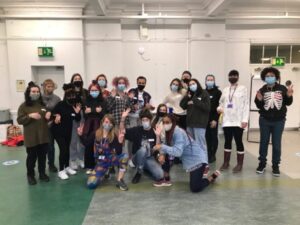 From January to July 2022, we held our Facilitator Training Programme, supporting 12 young people aged between 16-25 to come and train with us, assist in our Bright Sparks classes, work towards an Arts Award and attend monthly training sessions here at Z-arts.
As far as we know, this kind of training programme was unique in Manchester and it was important to us to engage with a diverse range of applicants, so we planned extensive promotion of the opportunity. We went to local schools, community centres and centres for assisted living to speak to young people. We ran an open day and provided bespoke support for applicants, including help with the applications, tours of the building and taster activities.
Our aim was to diversify the Manchester facilitator talent pool and to provide career pathways for those interested in this kind of artistic delivery.
This is what they took part in…
Participants attended a training session each month with our lead facilitators, CEO and other relevant and inspiring organisations.
Partnered with local arts organisation, Venture Arts, to deliver a peer to peer learning session with their trainee artists on a similar programme. This session was to enable and empower each of the groups on their respective journeys into creative careers and to share stories and experiences of the project.
Shadowed workshop and assisted in the delivery of workshops
Received payment for their time
Opportunity to complete their Gold Arts Award
We had two programme strands, the Trainees and the Assistants: 
The trainees were mentored and supported to gain 'on the job' experience learning from both the assistants and the lead facilitator. A few of the trainees have now stepped up to be assistant facilitators.
The assistant facilitators ran warm up games, built up their confidence in delivering and the majority finished the year leading sessions. Many have proceeded to develop careers as lead facilitators. Working with Z-arts, schools and the local community.