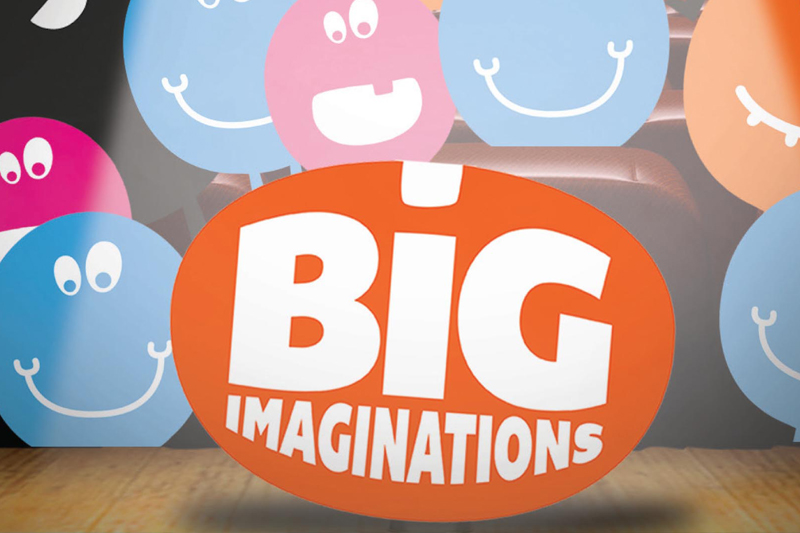 Big Imaginations is a network of 16 venues across the North West working together to bring brilliant children's theatre to the North West.
As part of our 2015-2018 proposal we are looking to outline some of the potential artists and companies we will be looking at working with on a co-commission. These conversations will be taken forward if we are successful with the funding.
The commissions we are looking to support are specifically early years and 8+. As a network we have a commitment to diversity in its broadest sense to reflect the world we live in.  We are committed to developing artists from the North of England and this co-commission opportunity is therefore only applicable to residents in the North.
Developing audiences is at the core of these commissions  which focus on two separate age ranges, both of which we have identified as having limited quality touring work readily available , but more importantly as key points where programmers in our network have identified problems in engaging audiences.
The first commission in 2015 will be for work that engages the youngest audiences and their parents. We have identified that this group can have difficulty in understanding the benefits of attending theatre events designed for babies and toddlers, resulting in poor attendances for many early years shows across the region. Some of our venues are exploring models of outreach work, engaging with families in parent and toddler groups, libraries and other familiar settings, and have found that this can form a creative bridge to attending theatre events. We would like to commission a piece of work of the highest quality that can provide outreach art activity for babies, toddlers and their families across the region in non-theatre spaces.
The second commission in 2016 will be to support the creation of a piece of theatre for the 0-3 age group. This will be a logical development of our previous commission. We will expect that the piece will have the ability to be performed across the range of spaces the Big Imaginations network supports, and will engage families with children from 0-18months, and also 18 months-3 yrs. The model of early years outreach work linked to a touring show will continue to have a life after the initial round, and will change the landscape of early years theatre provision in the region, and will have the ability to earn money as a touring product.
The third commission in 2017 will be to create an exciting piece of theatre for a completely different age group – 8-13 year olds. There is an identified falling away of audiences as they reach this age group – partly there is a lack of exciting work available, but this is underpinned by a lack of confidence in venues in programming for this age group. So this cycle means that this age group are poorly served in this region in terms of theatre. We would like to commission a piece which will have
the ability to be performed across the network. This commission will begin with an outreach phase, as part of the r&d, using the same methodology as the first commission to reach new audiences in this age bracket, acting as a taster to entice them to final piece of theatre, having played a part in its development.
We would like to be bold and experimental in our commission choices – we want to commission work that celebrates diversity, and which builds diverse audiences by allowing them to see themselves reflected on the stage. We want to commission work that pushes boundaries in terms of form in order to ensure that our programming does not become safe and uninspiring, and we will use rigorous assessment criteria to ensure that our audiences are given the highest quality artwork that is suitable for their age group. We would like to focus our commissioning energies on the North, as we feel there is a wealth of talent in this region that can sometimes be overlooked by similar schemes elsewhere, but more importantly for us it will develop the quality of available work on our doorstep.
We are looking for expressions of interest from artists and companies who are based in the North of England, who would relish the chance to be commissioned to create a piece of work for children.
To express your interest please send a paragraph (no more than 500 words) explaining
Why you would like to be commissioned by the network
An idea on what you might like to explore
Who the piece will be aimed at
Please email nick@z-arts.org and enclose a copy of your CV or a covering letter detailing your work to date.
Deadline for expressions of interest is: Thursday 24th April at midday.