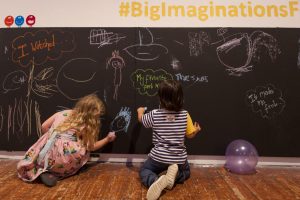 Z-arts are leading on Big Imaginations, a North west consortium of venues who have a commitment to children's theatre.
Our mission is to create an environment where a wide range of high quality children's theatre can thrive in the North West; utilising the work of great companies to develop audiences for children's work. We all recognise the value of working together to create a new appropriately diverse programme of touring work for children and families in the region.
---
Arun Ghosh, Associate Artist
Arun says: "I feel honoured to have been invited to be an Associate Artist at Z-arts.
This was where I recorded my first demo, gave my first band performance of my own music, and delivered my first music workshops. It was here at Z-arts that I developed my artistic practice, making connections that continue to this day, and so being an Associate Artist here feels like coming home
As Associate Artist, I'll be curating and giving performances, composing, and making work with musicians from and around Hulme. Z-arts is such an exciting and inspiring place to be, and I can't wait to get started."
---
Theatre Rites, Associate Artists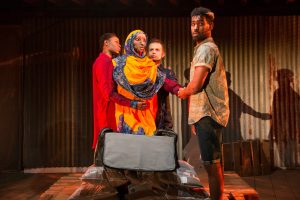 Sue Buckmaster, Artistic Director Theatre-Rites, says "Theatre-Rites is delighted to be an Associate of Z-Arts. This fruitful relationship began when I took part in a Creative Gathering to discuss how to develop revolutionary children's theatre, and we formalized our Associate role in 2017 when we collaborated on The Welcoming Party, a site-specific show offering a way for young people to reflect on how they feel about the current refugee situation. The Welcoming Party was co-produced by Theatre-Rites, the Manchester International Festival, Z-arts and the Ruhrtriennale Festival and resonated with young and old,'This is no two ways about it, an astonishing piece of theatre: a kids' show that handles immigration, both as lived experience and as bureaucratic system, with such nuance and sophistication that it teachers adults a thing or two as well' – Whatsonstage
Theatre-Rites has been at the forefront of children's theatre for the last 21 years, presenting work across the UK and internationally. We recognise Z-Arts as one of the most ground-breaking, forward-thinking and exciting Theatres for Children in the UK. We are thrilled to join forces with them to challenge, stimulate and entertain children and their accompanying adults, and to support debates and initiatives, which keep this important work at the forefront of cultural experiences on offer today, and in the future.
Together we feel that it is a vital time to protect, nurture and inspire children and young adults, and those who take care of them."
---
We work closely with the national Family Arts Campaign, sharing promotion and publicity for the Family Arts Festival and making sure that Z-arts not only embeds the Family Arts Standards in all our work, but also spread the word to ensure other venues do likewise. We also take part in the national Family Arts Evaluation programme and contribute to national and regional skills sharing events. In 2015 we are producing Family Matters at the Family Arts Conference, working with the Campaign to help the sector understand and therefore respond to the complexities of modern family life, making sure that we create theatre and arts activities that are as relevant, exciting, educational and stimulating to a contemporary audience.
Mari O'Neill, Family Arts Campaign Manager: "The make-up of a family has implications on how we the arts sector communicate with that family, what arts activities we present, and how we make sure those activities are accessible.Family Matters, a work that encapsulates the diversity of the modern family through stories both for families and about them, can help us to keep pace with changes in family life."
---
Z-arts are coordinating the Manchester Family Arts Network, which includes partner venues The Edge, Whitworth Art Gallery, Manchester Art Gallery, Manchester Museum, The Bridgewater Hall, The People's History Museum, Central Library, Curious Minds, the Audience Agency, plus lots more.
Our aim is to bring together best practice for family arts engagement across Manchester, to contribute to the national Family Arts Campaign.
We will be programming a number of events for the Family Arts Festival in October, including activities specifically created for non-traditional families.  We want to work with families at the core of everything we do and we share a commitment to  providing intergenerational activities.
For further information on the Manchester Family Arts Network email
saskia@z-arts.org
For the Family Arts Campaign go to
www.familyarts.co.uk
For details on the Family Arts Festival, which takes place nationally from 9
th
October to 1st November go to
www.familyartsfestival.com
---
Z-arts have been working with Children in Need since 2008.  Their funding means we can offer free or low cost after school and holiday activities for children. Click here to see Tina O' Brien visiting Z-arts in May 2013.
---
Our young people have acted as advisors to Curious Minds, helping then make sure that the services they deliver as an ACE Bridge organisation for children and young people remain relevant to their needs.  Z-artists work with Curious Minds to devise and deliver creative activities across the whole curriculum.
---
Z-arts are proud to work across a range of departments at Manchester Metropolitan University including Art and Design, History and Youth Work, supporting research, work placements and delivering workshops. In March 2012 we won the Manchester Community History Award for Zion 100, a project in partnership with MMU History Department which celebrated 100 years of the Zion building.
---
Our Chief Executive and Artistic Director, Liz O'Neill, has been awarded the Paul Hamlyn Foundation Breakthrough Grant. The Award is for visionary cultural entrepreneurs with compelling visions for how to make great things happen in the arts.This Breakthrough grant is to support Liz as Director of Z-arts to pursue her vision for family theatre, working with artists and other co-producers to develop, commission and produce new work that reflects the diverse nature of family experience today. It will also build profile and know-how for both herself and Z-arts as originators of new work of this kind.
Paul Hamlyn Foundation is an independent funder supporting work in the arts, education and learning and social justice in the UK, and a programme of support for NGOs in India. Founded in 1987 by the publisher and entrepreneur Paul Hamlyn (1926–2001), PHF has grown to become one of the UK's larger independent foundations. Its mission is to help people to realise their potential and enjoy a better quality of life. During 2013/14 the Foundation has been carrying out a strategic review. Its new strategy will be announced later in 2014. For more information visit www.phf.org.uk.
If you're interested in becoming an official partner of Z-arts email liz@z-arts.org